Welcome to the House of the Honourable
Welcome to our home Ahmadiyya Daroul Ikram, where we 50 children can grow up well protected with our big family. In 2011, Humanity First, a relief organisation, planned to build a home for orphans in Benin. Four years later, the building was finished and the first children could move in. But more about that at the bottom of this page.
Our home has room for 50 children. Six of us sleep in one room. Outside, we can let off steam in the huge courtyard. There is a playground with a sandpit, swings and a seesaw. We can also play football or other things in the yard.
In December 2017, our beloved grandma Aresha passed away. We all miss her very much. She loved us and the orphanage very much. We were able to fulfil her wish to be buried on the grounds of the orphanage. Together with our parents we pray regularly at her grave. And grandpa still comes to visit us sometimes.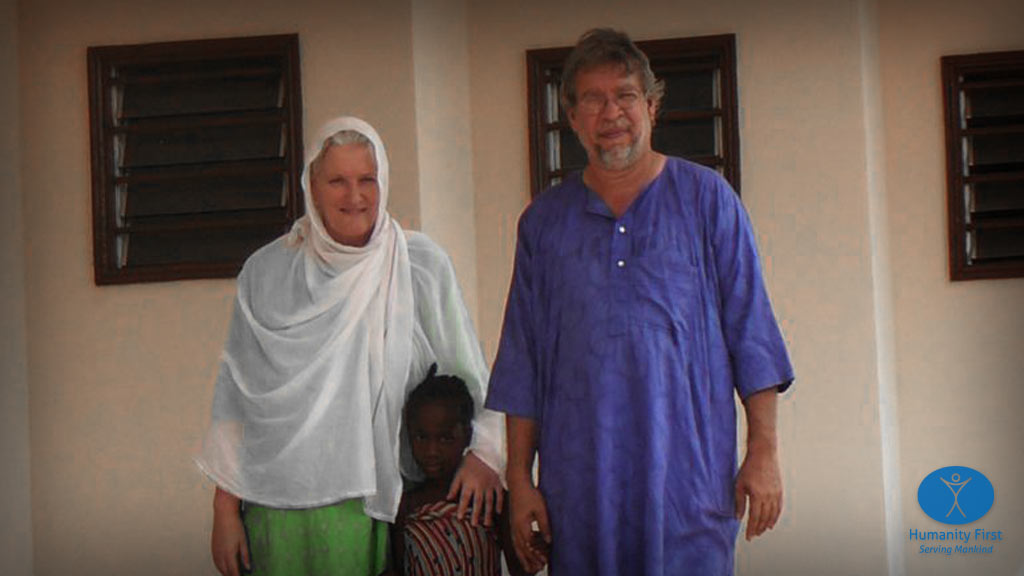 Garden & Animals
In our garden we learn how to grow vegetables and fruit. The fruit is quite sweet and very tasty. We don't like to eat the vegetables, but our mamas always give them to us anyway. But we don't like it as much as sweet things.
We also have animals that we take care of. Our chickens, for example, lay fresh eggs every day and we have lots of fun with our cheeky pet goat.
The Great Hall
In the big hall we not only eat together, we also study together. A tutor also comes here to prepare schoolwork with some of the kids.
Sometimes it gets really loud at mealtimes. My favourite food is maize porridge. Here we call it patte. Sometimes the food doesn't taste good, but that's not so bad. If we are well behaved, we are allowed to watch TV in the dining room.
The playroom
Oh yes, then there is the playroom. There are lots of toys and you can choose what you want. But mostly the younger children play here - and it looks pretty messy afterwards.
The bus
Many children already go to school, but the little ones stay at home. When we come home from school, we look forward to all playing together. And sometimes we all go on outings together. Our dad then takes us in our huge bus to the beach, for example, where we can romp in the sand.
---
Info & History
Humanity First Deutschland e.V. built this orphanage for 48 children (ground floor) in Benin (West Africa) in cooperation with the city administration of Porto Novo, Benin's capital. The city administration provided us with a plot of land free of charge, while Humanity First covered the costs of building the house and the subsequent care and support of the orphans as well as the wages of the staff.
The construction of the orphanage has been completed in the meantime. So far, as of 2013, the construction of the orphanage has cost 346,300 USD and in the future we expect annual costs of 47,000 USD.
Humanity First's orphanage will be home to approximately 200 orphans, providing them with an education and enabling them to grow up without hunger, without thirst and in safety. Since it is important to us that the orphans grow up in as familiar an atmosphere as possible, the educators are only responsible for a small group of children at a time and also live in the home themselves. The concept also includes giving the older children the opportunity to learn a suitable profession after they finish school, thus giving them a perspective for the future. The children then have the opportunity to be trained as nurses, seamstresses or IT specialists in one of our support projects, or to learn another profession depending on the circumstances. In this way, we would like to enable the orphans in Benin to find a dignified way back into society.