On this page you will find the latest news about our orphanage. Enjoy reading! You can now also find us on Twitter & Instagram
With "Maryam" we are now 50 brothers and sisters!
After this girl was found by the police in the jungle, unfortunately it could not be determined where she comes from and where she lives. Since today, we can welcome her in our orphanage. We have given her the name "Maryam". Our orphanage Ahmadiyya Daroul Ikram now accommodates 50 children. Continue to support ➜ » hfspen.de/waisenheim «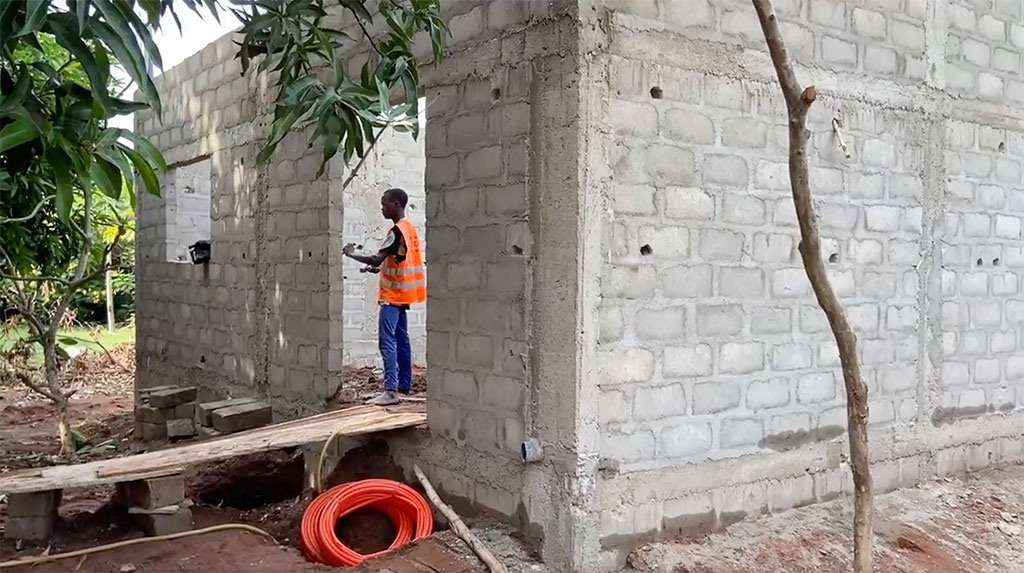 His joy was unimaginable
Yahya was a mentally retarded boy who was lost and police could not find his family as he was unable to speak. After a week without a sign of his family the police finally asked us to take him into our orphanage Ahmadiyya Daroul Ikram in November 2021.
He was rapidly integrated in our orphanage Ahmadiyya Daroul Ikram and everybody loved him. He had found a new home. But part of him was still longing for his family, whom nobody could find.
Finally, we went to the place he was found and searched for his family with his picture. After about one week we were amazed when we actually found his family. In December 2021 we were able to reintegrate him into his family.
Now, 4 months later, we visited him in his village. His joy was unimaginable. He rapidly ran towards us and embraced us. He has two homes. And the orphanage Ahmadiyya Daroul Ikram has a whole village. The village of Yahya.
When God opens a door
In moments of grief one must not forget that it is that moments WHEN GOD OPENS A DOOR. After having lost her sister two days ago in childbirth she found a safe haven for her niece in our orphanage Ahmadiyya Daroul Ikram. The orphanage now has 48 children. Keep supporting us. ➜ » hfspen.de/waisenheim «
Triplets have new home
Fauzia, Fawaz and Faiz are triplets, whose mother died while giving birth to them. They have now found a new home in the orphanage Ahmadiyya Daroul Ikram. The orphanage now has 47 children.
A high visit to our orphanage
The orphanage Ahmadiyya Daroul Ikram was delighted about the visit of respected Shareef Odeh Sahib. An honour for Edwige and the other children. Keep supporting us with your prayers and via
Joshua gets a visit from his mother
Joshua found a new home in our orphanage Ahmadiyya Daroul Ikram 5 months ago. Today his mother visited him. She was very happy that the orphanage is taking good care of her son. These and many other stories have been made possible by your donations.
Edwige has returned home!
Edwige has returned home! A long journey lies behind us. A journey that cannot be measured in metres, but in miracles. Watch these miracles unfold. Follow us on social media at @waisenheim @humanityfirstde
Noël has lost his mother two months ago
Noël has lost his mother two months ago. His aunt was confident that the Orphanage Ahmadiyya Daroul Ikram will give her nephew a good future and has entrusted us with guarding the child. The orphanage now has 44 children.
Gloria, our 43rd sibling
It makes you incredibly sad to learn what happened to little Gloria. Her mother abandoned her when she was a baby. Afterwards she was accommodated by relatives, but they did not give her enough food. But it makes us all the more happy that we can now take Gloria in, give her a family, a sheltered home and so a future. We are now 43 siblings in the orphanage Ahmadiyya Daroul Ikram and the responsibility keeps growing. All of this is also made possible by your donations, so keep donating - even the smallest donation can make a big impact. Thank you! » hfspen.de/waisenheim «
Edwige has arrived at Tahir Heart Institute
Our little baby Edwige has arrived at the Tahir Heart Institute in Pakistan. This is partly a result of your generous donations. With your support, you have given a baby who would have been abandoned to his fate in his home country this chance. Continue to support us at:
Edwige is on its way to Pakistan
You too have lost your heart to Edwige. Thanks to your help and prayers, after a long and difficult preparation, Edwige is finally on her way from Benin to the Tahir Heart Institute in Pakistan, where she will undergo heart surgery. Please continue to pray for our little baby to make a full recovery, we will keep you posted. You can still donate at: » hfspen.de/waisenheim «
Thank you for your help
A big thank you to you, our supporters, donors and all contributors who make this wonderful and unique project possible at all.
Deborah had neurological problems
Deborah had neurological problems. Recently her grandmother died and she found a new home in our orphanage Ahmadiyya Daroul Ikram. With your generous donations we were able to conduct sophisticated diagnostics in order to help her. Please keep supporting us. » Donate now! «
Moustapha & Moufoutaou's grandfather on visit
Remember the two brothers, Moustapha and Moufoutaou, who we rescued out of the water in the flooded village? Their grandfather and uncle visited them today for the first time. They were very delighted to see the development of the children in our orphanage Ahmadiyya Daroul Ikram.
Janviette's mother has died
Janviette is 11 days old. Her mother passed away shortly after her birth. We have the honour to call Janviette our sister from today and welcome her into our home. We are now 42 brothers and sisters together!
Our sister Hedwig has to go to hospital
Our sister Hedwig is 2 months old and lives together with us in the orphanage. A few days ago we found out that she has a heart defect. With the support of Humanity First Germany, we are currently organizing her transport to Pakistan for the upcoming surgery at the Tahir Heart Institute. May God help us and give our little baby a long and healthy life. Amin.
Our second orphanage worldwide is being built
It gives us great pleasure to inform you that Humanity First Germany is currently building another orphanage in Uganda. This would be Humanity First's second orphanage worldwide! Would you also like to participate in this historic project? You can already donate now or make a pledge directly at: https://hfspen.de/#promise
Great visit from Germany
Today, a team of doctors from Humanity First from Germany visited us. We all dressed up and welcomed them with a song and flags. Afterwards we had time to play and chat with them. They are great people, and in the coming days and weeks they will help poor people, especially in Benin, to get free treatment. Another team has arrived in Chad and will help the people there.
The police found Nestor on the street
Today is a beautiful day. We have had offspring, or to be more precise, a new member of the family: Nestor. He has a lot of scars on his body. The police found him on the street. They say he must have been forced to work by force. So it is all the nicer today when a new chapter can begin for Nestor - together with us, with his family from orphanage
The joy is indescribable
Martin is a 10-year-old boy who was forced to work by his parents. He ran away in despair and was found on the street by the police. By the grace of God, he has now found a new home in our orphanage. His greatest joy was when Martin was allowed to go to school with us for the first time. We took this photo at such a moment. May God provide him with much education to later give his children and grandchildren a better life - and also help other children. Amin.
Two children rescued from a flooded area
A few days ago, Papa Valeed rescued two children from a flooded area and brought them to our orphanage. Mustapha and Mouphatou were already in a difficult situation even without the flood, as their father had recently died and their mother had unfortunately also abandoned them. Our home now has 30 children. Welcome Mustapha & Mouphatou
Youssouf's first day at kindergarten
Today is a beautiful day, Youssouf starts kindergarten. Our brother came to us 18 months ago. It is so sad to think that he was lying alone on the side of the road, starving and in danger of dying. After a short stay in hospital, he thankfully got better and was able to move in with us. We have grown very fond of him. Please pray for Youssouf - but also always for us.
Dossou's sisters are now here too!
Anna and Sarah, two twins from Benin, are the older sisters of Dossou (left on their grandmother's lap). Our orphanage was asked by the authorities to take care of them. Dossou has been living with us since the death of his mother, his twin sisters Anna and Sarah were looked after by their uncle during that time. Since he can no longer take care of them, Anna and Sarah have now come to live with their brother in the house of the Honourable. A reunited family. Our home now has 28 orphans.
Honoré gets an incredible visit
Recently, Honoré was visited by his blind mother for the first time since his arrival in the orphanage. It was a touching moment. We are grateful to God that our orphanage has been able to help save his life.
Honoré, the Honourable
Today we would like to introduce you to Honoré. He was a 21 months old child when he was referred to us, urgently a few weeks ago. Honoré was suffering from sever starvation.
A mother donates her deceased daughter's clothes to Claudine
A woman from Benin, who lost her daughter at birth, has donated everything that she had lovingly bought for her child to Claudine. One out of the many emotional stories we experience every day at our orphanage.
Claudine is half-orphaned and her mother abandoned her
A new Baby is here! We warmly welcome Claudine to our orphanage Ahmadiyya Darul Ikram in Benin. Unfortunately, her father passed away before she was born and her mother abondend her. She is one month old and by the grace of God has now found a home at our Orphanage.
Mum & Dad are finally here!
Today our new mum and dad Dr Valeed Sethi arrived from Germany. We are all very excited. But I'm sure Mum and Dad are too. It is a great day.
Simply incredible!
It is unbelievable, this young couple is leaving their home and their beautiful home to help other people in a foreign place for the rest of their lives. May God accept and richly reward your efforts. Amin.